BUTTWELD FITTINGS IN PIPING
Buttweld fittings are available in multiple shapes (elbows, tees, reducers, crosses, caps, stub ends), material grades (carbon, high-yield carbon, low-alloy, stainless, duplex, and nickel alloys), and dimensions (2 to 24 inches in seamless execution, and welded for larger pipe sizes).
The key specifications for buttweld fittings are the ASME B16.9 (carbon and alloy fittings) and the MSS SP 43 (that integrates ASME B16.9 for stainless steel, duplex, and nickel alloy BW fittings).
Butt welding fittings have the following benefits
allow strong, and leak-proof, piping connections
minimize pressure drops and the turbulence inside the pipeline
have a long service life
are rather cheap to purchase and deploy
At Hengtong, we manufacture and stock a lot range of steel piping products . These products include: Steel pipes, Pipe fittings; Forged flanges , in various specifications and materials (Carbon steel ,Alloy steel ,Stainless steel.) We are professional butt weld pipe fittings supplier in China, supply butt weld elbow, butt weld tee, butt weld stub end, butt weld reducer, butt weld cap, butt weld swaged nipple. Any butt weld pipe fittings you need in piping construction, you can find in the list of Hengtong Products !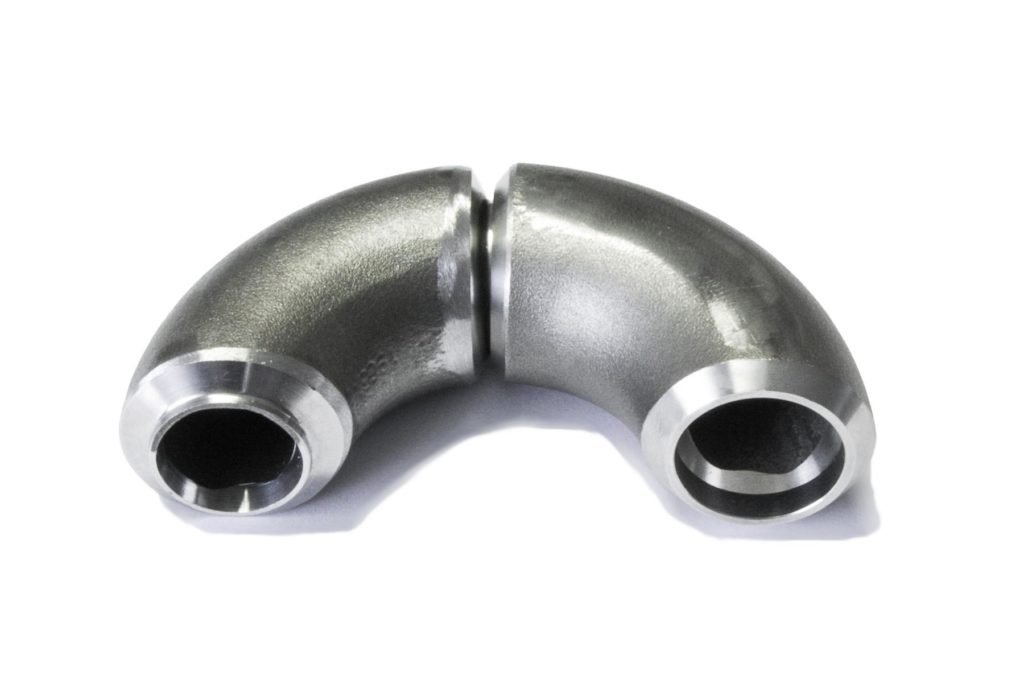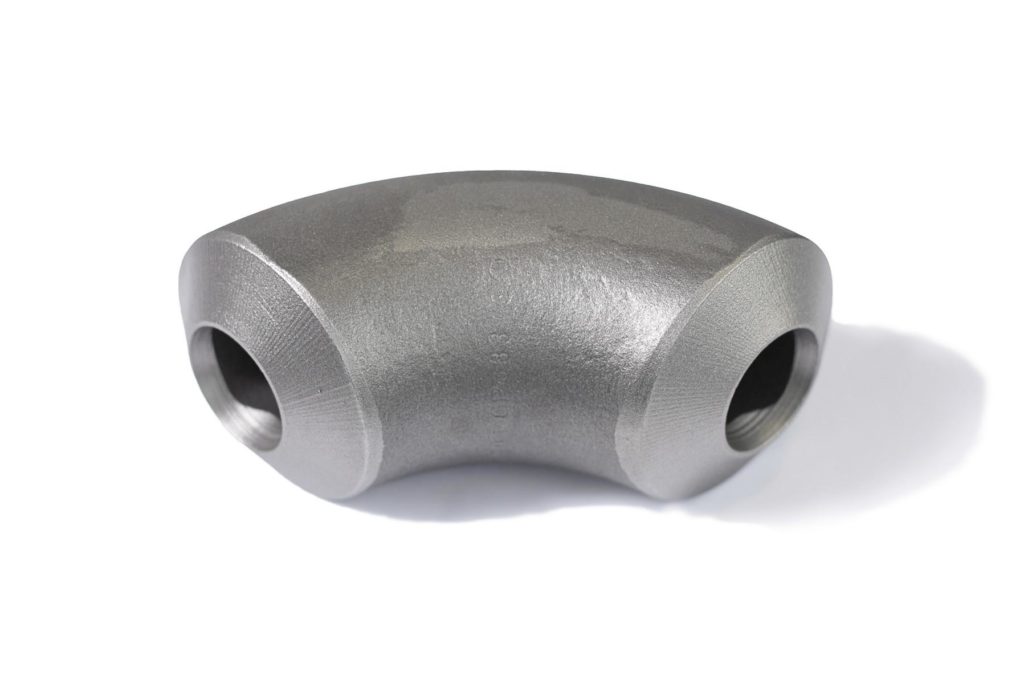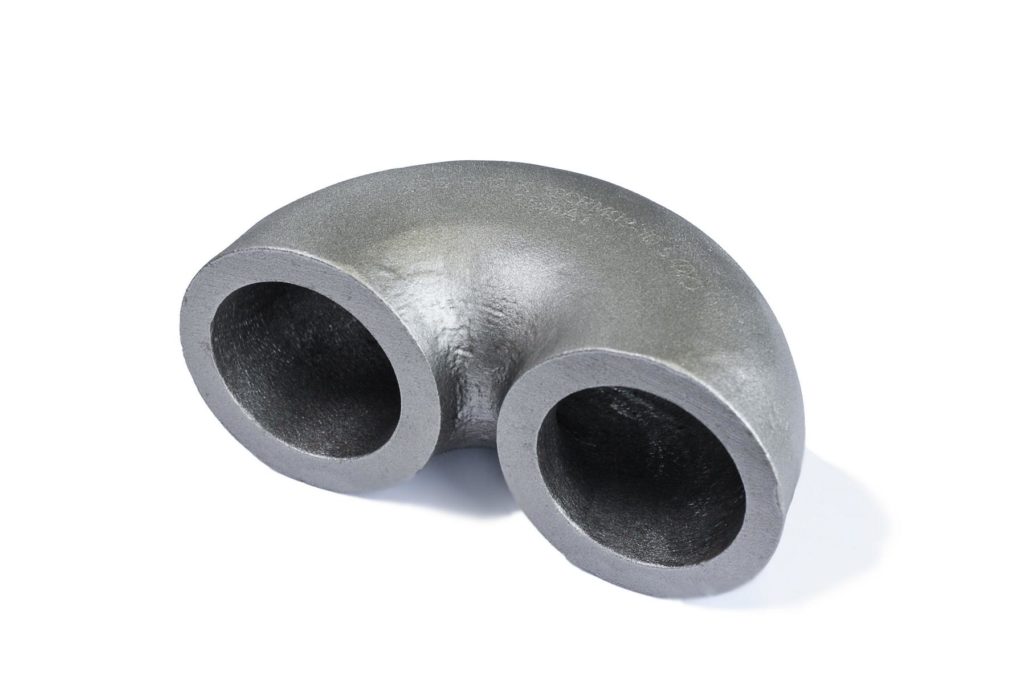 Elbows Type:
45, 90, 180 Deg. Long/Short Radius Elbows, Equal Tees, Reducing Tees, Equal Crosses, Reducing Crosses, Concentric Reducers, Eccentric Reducers, Caps, Barred Tees, etc.
Pipe Bend:
Size: 3"-48"
Radius: 3D, 4D, 5D, 6D, 8D, 10D
Angels: 22.5Deg, 30Deg, 45Deg, 60Deg, 90Deg
Pipe Fitting Standard:
ANSI B16.9, ANSI B16.28, DIN 2605, DIN2615, DIN2616, JIS B2312, JIS B2313
Pipe Fitting Material:
Carbon Steel
ASTM A 234 WPB, A420 WPL1, WPL3, WPL6,
ASTM A860 WPHY 42, WPHY52, WPHY60, WPHY65, WPHY70
Stainless Steel
ASTM A403 WP304/304L, WP316/316L, WP321, WP347
Alloy Steel
ASTM A234 WP1, WP5, WP9, WP11, WP12, WP22, WP91
Duplex & Super Duplex Steel:
ASTM A815 UNS S31803, UNS S32750, UNS S32760
Schedule:STD, XS, XXS, SCH10-SCH160
Pipe Fitting Size:
Carbon Steel: 1/2"-96"
Stainless Steel: 1/2" – 24" (Seamless and ERW), 26" – 72" (Welded)
Features that product hold-
After it being produced by using good quality of alloy, it tends to offer several good features like
Corrosion resistance
Excellent surface finishes
Commendable dimensional accuracy
Anti-corrosive
Withstands easily at the greater temperature and heavy loads
Stress corrosion cracking resistance
APPLICATIONS-
Typical applications include
Food processing equipment.
Kitchen benches, sinks, troughs, equipment and appliance
Chemical containers, including for transport
Heat Exchangers.
Fabrication industries.
Heavy machinery industries..
SHORT VS LONG RADIUS ELBOW
                         
The center to face distance of a long radius pipe elbow is always 1.5 times the nominal pipe size, whereas, for a short radius pipe elbow, the center to face distance is equal to the nominal pipe size.
Example:
For a 4 inches long radius (LR) butt weld elbow, the center to face distance is 4 x 25.4 x 1.5 = 152.4 mm;
For a short radius butt weld elbow, the center to face distance is instead 4 x 25.4 x 1 = 101.6 mm. Short radius pipe elbows are available only for the 90 and 180-degree configuration (and not for the 45 degrees); instead, long radius elbows are available for all degrees.
PIPE ELBOW MANUFACTURING PROCESS
Buttweld elbows 45 and 90 degrees can be manufactured in different ways, the main ones are the "mandrel process" and the "cold forming" (other methods are the elliptical forming and the double-seam welding method).
Mandrel Process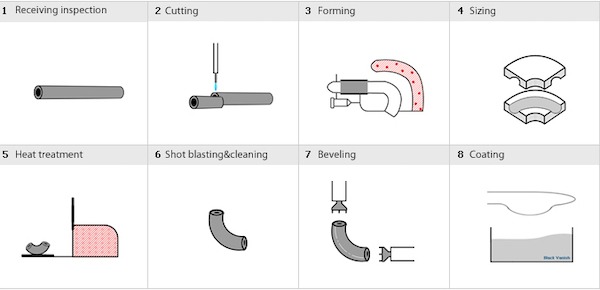 Cold forming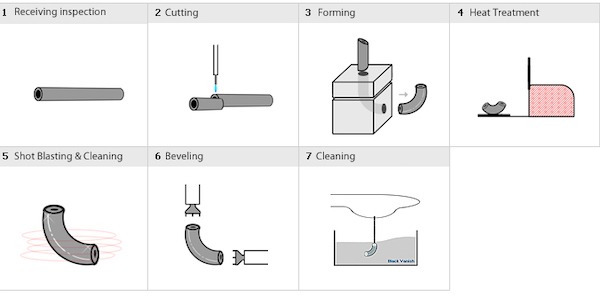 PIPE BENDS
A pipe bend is a generic term to indicate a fittings that changes the direction of the piping system (technically, elbows are pipe bends too but of a standardized type in terms of angle degree and direction). The term "pipe bend" refers to a fitting that offsets the direction of the pipe works, without specifying the actual degree and direction.
Pipe bends are manufacturing by twisting a pipe or a tube using a bending machine, with an hot or a cold forming process. Pipe bends are economical ways of making pipe works layouts decreasing the number of other pipe fittings used.