Leading suppliers & dealers in China more places. HT Fittings manufacturing and exporting high quality Buttweld Tee Fittings worldwide. We are China largest Alloy steel Buttweld fittings & Carbon steel Buttweld fittings Supliers more than 125 Country.
A pipe tee is defined "Equal" when the bore size at the run and branch sides have the same diameter. An equal tee is, therefore, used to connect two pipes of the same nominal diameter. Equal Tee Manufacturers in China are available in sizes from half an inch to 48 inches (or larger) and in seamless and welded execution (seamless up to 24 inches, welded for tee sizes above 24 inches).
Pipe Reducing Tee pdf downloads
Reducing Tee Fittings is another type of pipe tee used in pipe and tube fittings. Pipe Tees are available two popular forms—have all outlets of the same size or they can be reducing tees in which they are with a combination of different outlet sizes. Reducing Tee Manufacturers in China, like all pipe tees, is in the shape of T with two ends of equal size and the third one slightly smaller.
Specifications and Steel Grade:
CARBON STEEL: ASTM A234 WPB, WPC; ASTM A420 WPL9, WPL3, WPL6, WPHY-42, WPHY-46, WPHY-52, WPHY-60, WPHY-65, WPHY-70,

ALLOY STEEL: ASTM A234 WP1, WP11, WP12, WP22, WP5, WP9, WP91 

STAINLESS STEEL: ASTM A403 WP304/304L, WP316/316L, WP321, WP347
Size Range:   
Carbon Steel: From ½" up to 96″

Stainless Steel (Seamless): From ½ up to 24″

Stainless Steel (Welded): From 26″ up to 72″
Schedule:  
Carbon & Alloy Steel: SCH STD, XS, XXS, SCH 10 ~ SCH 160 and special thickness

Stainless Steel: SCH 5S, 10S, 40S, 80S and special thickness
1. Large size stainless steel tee
For production of large size stainless steel tee, two steel plates are placed into corresponding mould for compression molding first by hydraulic press. Then butt welding will be done to attach these two steel pieces together. Through this exact process, the maximum caliber of the seamed stainless steel tee we could produce reaches 100 inches.
Tee made by steel plate

Large size tee
2. Seamless stainless steel tee 
In our company, there are cold press forming machines exclusive for production of seamless tee made of stainless steel. In addition, we can also produce seamless tee with larger size by hot press forming by mould process for customers.
Seamless heavy thickness Equal Tee

Seamless Equal Tee
3. Forged stainless steel tee 
Through forging process, we are also able to manufacture stainless steel socket weld tee or threaded tee.
Forged SS Equal Tee
Recommended Applications
An extensive use of stainless steel fittings can be found in the following industries:
Petrochemical industry: Oil refining, ethylene, coal to oil, coal to olefins and other projects.
Natural gas industry: LNG ships, LNG terminals, and natural gas pipeline projects.
Power station industry: In thermal power plant, the water pipeline (usually stainless steel) used for supercritical units, circulating fluidized beds, power generation boilers, steam turbines, generators and other equipment, including reheater tube, superheater tube, water screen tube, economizer tube, downcomer and header, etc.
Machinery and equipment manufacturing industry: Equipment structures such as pressure vessel, heat exchanger, fluid control, hydraulic transmission, instrumentation and others.
Others: Shipbuilding, papermaking, desalination, food production and other industries; Aviation, aerospace, military, nuclear power plants and other projects.
ASME B16.9 Butt weld Equal Tee Dimensions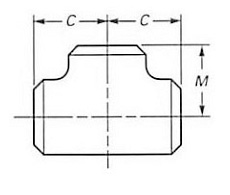 Nominal Pipe Size
Outside diameter
at bevel
Center-to-End
Run (C)
Outlet(M)
1/2″
21.3
25
25
3/4″
26.7
29
29
1″
33.4
38
38
1 1/4″
42.2
48
48
1 1/2″
48.3
57
57
2″
60.3
64
64
2 1/2″
73.0
76
76
3″
88.9
86
86
3 1/2″
101.6
95
95
4″
114.3
105
105
5″
141.3
124
124
6″
168.3
143
143
8″
219.1
178
178
10″
273.0
216
216
12″
323.8
254
254
14″
355.6
279
279
16″
406.4
305
305
18″
457.0
343
343
20″
508.0
381
381
22″
559.0
419
419
24″
610.0
432
432
The dimensions are in millimeters