What is a Piping Bend?

A PIPING BEND is simply a generic term in piping for an "offset" – a change in direction of the piping. It signifies that there is a "bend" i.e, a change in direction of the piping (usually for some specific reason) – but it lacks specific, engineering definition as to direction and degree. Bends are usually made by using a bending machine (hot bending and cold bending) on-site and suited for a specific need. The use of bends is economic as it reduces the number of expensive fittings.
Pipe Bend is similar to pipe elbow. But it may be with 3D 5D 8D 10D. Pipe Bend is usually made by bending machine (hot bending and cold bending) on site. Using bend is economic as it reduces numbers of expensive fittings.
bend pipe can be treated for corrosion protection,In this way, the bend elbow becomes an anticorrosive pipe:FBE (Fusion Bond Epoxy) Coated Pipe, 3PE Coated Pipe,3LPP Coated Pipe,Liquid epoxy coating pipe.
Keywords:
Size: NPS from 1/2" to 72", DN from 15 to 1800,WT: <120mm, SCH 40/80/XXS
Bend Radius: 2.5D/3D/4D/5D/6D/7D/8D/9D/10D
Bend Angle: 15/30/45/60/90/135/180 deg
Pipe Bend manufacturer HengTong GROUP can supply carbon steel bend, stainless steel bend, alloy steel bend. When you ask for a pipe bend price, besides describing the material, radius, diameter, degree, you may also need specify the tangent length of the pipe bend.
Large Diameter Pipe Bend / Bending
Steel pipe bending usually required in large diameter in oil and gas pipelines, since it has better capacity to transport the material, and long pipelines will need different radius of pipe bends to be intalled in complex conditions.
PIPE BEND Material
Carbon steel:
SA234 WPB, SA234 WPC,SA42 WPL6, SA42 WPL3
WP1. MSS-SP75, WPHY,WPHY 46,WPHY 52
WPHY 56,WPHY 60,WPHY 65, WPHY 70
DIN 1629 St37, RST37.2 St52, STPG38
Stainless:
ASTM/ASME SA403 304,304L ,316, 316L, WP304L, 3 WP316 WP347 (H) ,WP317 (L),WP321.
DIN 1.4301, 1.4306, 1.4401, 1.4571
JIS SUS304,SUS304, SUS304L, SUS316, SUS316
Alloy:
ASTM/ASME SA234 WP12, WP11,WP22, WP5, WP9, WP91, ASTM B361 GR.3003-6061, ASTM B366 UNS
N04400,N08800, N08825 N1001-N10276-N10665, WPT2-WPT12
ASTM 182 F1, F5, F6, F7, F9, F11, F12, F22, F51, 16MnR Cr5Mo
12Cr1MoV 10CrMo910 15CrMo 12Cr2Mo1, St45.8
Learning knowledge:About Cold bending and Hot bending

Cold bending
Cold bending is referring to all types of bending that does not use any added heat to bend the pipes. The procedure is usually performed by wrapping a pipe or other material around a die or shape that causes the pipe to bend. The procedure is rather fast and even more so as it doesn't need to cool down or be taken care of in any particular way after the bending has been performed. As the machines used for cold bending aren't very expensive in general, due to not being particularly complex or advanced, cold bending can be a good option for smaller companies that doesn't have a large budget. It can also be a good method for companies that aren't specialised in bending but only needs to perform it every once in a while. The negative aspect of all types of cold bending is that it's not possible to bend to radically. In most instances, you will have to fill the machine with filler material, like sand, for the pipe not to crease or break due to a radical angle.
Hot bending
Hot bending is generally only referring to different types of induction bending. Induction bending is a highly effective way of pipe bending, as it is fast, precise, and with few errors. The induction bending process is performed by heating a certain point of the pipe up where it then can be bent without much effort. It doesn't require any filler material and the result of the bending tends to keep distortion to a minimum. Many induction benders have also chosen this type of bending because of its energy sufficiency. After the heating process has been done, the bending doesn't take a lot of time at all.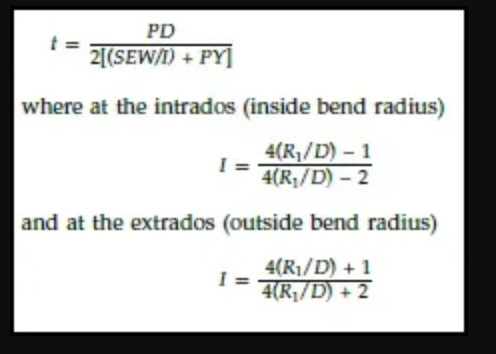 R1 = bend radius of welding elbow or pipe bend
D = outside diameter of the pipe
W = weld joint strength reduction factor
Y = coefficient from Code Table 304.1.1
S = stress value for material from Table A-1 at the maximum temperature
E = quality factor from Table A-1A or A-1B Add any corrosion, erosion, mechanical allowances with this calculated value to get the thickness required.
End Connections
For connecting elbow/bend to pipe, the following type of end connections are available
Butt-welded: Used along with large bore (>=2 inch) piping
Socket welded: Used along with pipe size
Screwed:
Flanged:
Butt-welded Elbows
The pipe is connected to butt welded elbow as shown in Fig. 5 by having a butt-welding joint.
Butt-welded fittings are supplied with bevel ends suitable for welding to the pipe. It is important to indicate the connected pipe thickness /schedule while ordering. All edge preparations for butt welding should conform to ASME B16.25.
Dimensions of butt welded elbows are as per ASME B16.9. This standard is applicable for carbon steel & alloy steel butt weld fittings of NPS 1/2" through 48".
Dimensions of stainless steel butt welded fittings are as per MSS-SP-43. Physical dimensions for fittings are identical under ASME B16.9 and MSS-SP-43. It is implied that the scope of ASME B16.9 deals primarily with the wall thicknesses which are common to carbon and low alloy steel piping, whereas MSS-SP-43 deals specifically with schedule 5S & 10S in stainless steel piping.
Dimensions for short radius elbows are as per ASME B16.28 in case of carbon steel & low alloy steel and MSS-SP-59 for stainless steel.
Butt-welded fittings are usually used for sizes 2" & above. However, for smaller sizes up to 1-1/2" on critical lines where the use of socket welded joints is prohibited, pipe bends are normally used. These bends are usually of a 5D radius and made at the site by cold bending of the pipe. Alternatively, butt welded elbows can be used in lieu of pipe bends but usually smaller dia lines are field routed and it is not possible to have the requirement known at the initial stage of the project for procurement purposes. So pipe bends are preferred. However, pipe bends do occupy more space and particularly in pharmaceutical plants where a major portion of piping is of small dia. and layout is congested, butt welded elbows are preferred.
Butt-welded joints can be radiographed and hence preferred for all critical services.