Differences between 3PE Coated Pipe and FBE Coating Pipe
Coated different materials Steel pipes
What is the advantage of the 3PE coating steel pipes
3PP/3PE/FBE External anti corrosion manufacturing process
What is the 3PE coating pipe
3PE coated pipe is the most advanced technology for the pipe anticorrosion. It puts together the advantage of the 2PE coating pipe and FBE coating pipe while at the same time avoids their weaknesses.3PE coating pipe is short for "three layers structure polyethylene anticorrosion coating steel pipe Each layer of the 3PE coated pipe has its unique function in the coating structure.
Differences between 3PE Coated Pipe and FBE Coating Pipe
FBE pipe is coated with Epoxy Coatings, it could be used for internal and exernal coating, and mostly used pipe internal coating. Specified as Fusion Bonded Epoxy pipe.
3LPE pipe coated with Epoxy inside, adhesive layer middle, and outside with polyethylene layer. 3LPE will be only used for pipe external coating 3LPE.
There are three layers in this pipe coating structure:
· The first one: Epoxy layer (Thickness > 100um)
· The second one: Adhesive layer (Thickness: 170um~250um)
· The third one: Polyethylene layer (Thickness: 1.8~3.7mm)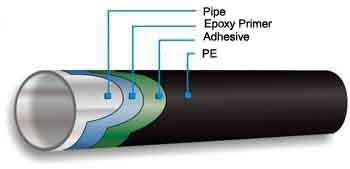 The epoxy layer is for the main anticorrosion function. It has strong connection with the surface of the bare steel pipe, favorable cathodic disbondment property, wide temperature range (-40℃-100℃) and low water-absorbing quality.
The adhesive layer is to connect the epoxy layer and PE layer, whose main chemical composition is polyolefin. The polyolefin's polar functional group can generate hydrogen bond or chemical bond with epoxy group of the FBE layer, making firm connection with the bottom layer. At the same time, the polyolefin's nonpolar ethylene has affinity interaction with the PE layer, also generating favorable adhesive property with the face layer.
The PE layer has favorable electrical insulation property, low water-absorbing quality and strong resistance to mechanical damage. This layer mainly has function of mechanical protection and anti-corrosion.
So 3PE coated pipe is a kind of composite system of these three layers with different functions, making the whole system is with all the functions to better protect pipeline.
We Compnay could be coated with 3LPE/3PE or FBE For different materials Steel pipes.
Coating Material : Epoxy Powder, Adhesion, Polyethylene Or Polypropylene, Cement Inside
3PE, 2PE, 3PP, 2PP, FBE and 2layer FBE.
Carbon steel pipe
API 5L line pipe Psl1 Psl2 ,GR B, X42,X46, X56, X60,X65,X70,X80
ASTM A53 pipe (galvanized steel pipe)
ASTM A106 pipe
ASTM A252 pipe
ASTM A500 Steel Pipe
ASTM A333
Q235B,
ERW ,HFW, LS AW, SSAW; HSAW PIPE
Alloy steel pipe
ASTM A335
CRA clad or lined pipe

Coating standard:
ANSI/AWWA C104/A21.4 American National Standard for Cement-Mortar Lining for Ductile-Iron Pipe and Fittings for Water
ISO 21809 Petroleum and natural gas industries — External coatings for buried or submerged pipelines used in pipeline transportation systems
DIN 30670 Polyethylen coatings of steel pipes and fittings
What is the advantage of the 3PE coating steel pipes
Normal bare pipe will be corroded in the severe environment and its lifetime will be reduced, making the construction and maintainance cost very high. But due to every layer of the 3PE coating system has its good performance, PE coated steel pipe can prolong above 50 years. It is because 3PE coating has good stability and anti-aging performances under normal work temperature and pressure conditions.. it can significantly reduces the construction and maintainance cost for the pipeline. At the same time, the 3PE coated pipe has favorable thermal insulation property, the thermal losses is just 25% of the traditional pipe, saving a lot of energy cost during operation. At last, the 3PE coated pipe can directly be laid underground or in the water even directly in the frozen earth because of its good anticorrosion property and impact resistance property in the low temperature, no need to construct ditch.
The elements of PE structure stability is high. So we can use it to prevent corrosion from natural gas, liquefied petroleum gas, artificial gas, and other chemical subjects. And it needs no secondary anti-corrosion equipment. The chemical of soil does not produce any effects on the steel pipe using 3LPE coating.
PE coating is a kind of soft and flexible material, it breaks after prolong 5 times longer. It is easy to bend without damage. 3PE coating steel pipe can bypass steel pipe and reduce the fees of installation.
One of the important features of 3LPE coating is that 3pe is not fragile under low temperatures. The temperature at the range of -60℃~60℃ is safe. So it can adapt to going down of pipeline work in winter. 3PE pipeline won't easily to break due to its good impact performances.
Tests show that PE pipe's wear resistance is 4 times than bare steel pipe. Especially transporting mud, compared with varnished steel pipe, PE coated pipe has better performance of wear resistance. 3PE has a smooth surface, its manning coefficient is 0.009.
PE coated steel pipes have smooth internal surface and non-sticking performance, so it shows a higher ability for transporting water, and it reduces the loss of pressure when transporting.
3PP/3PE/FBE External anti corrosion manufacturing process
First step is to clean, use cleaning solvent emulsion cleaning the steel surface, in order to achieve the removal of oil, grease, dust, lubricants and similar organic matter, but it can not remove the steel surface rust, oxide, solder medicine.
Second step is to right tools rust, rust tools you want to have to use a wire brush, wire brush to remove loose or warped oxide, rust and slag. To achieve the desired effect of the rust, the hardness of the steel surface must be based on the original extent of corrosion and the required surface roughness, coating, etc. to select the type of abrasive, the epoxy layer, two or three layers polyethylene coating, using mixed abrasive grit and steel shot blasting easier to achieve the desired effect.
Third step is to do pickling, chemical and electrolytic pickling generally use two methods, using only chemical pickling pipeline corrosion. Although chemical cleaning can achieve a certain surface cleanliness and roughness, but there are some pollution to the environment.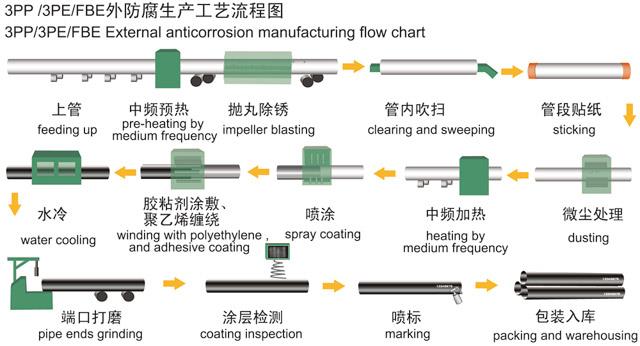 Internal anti corrosion manufacturing process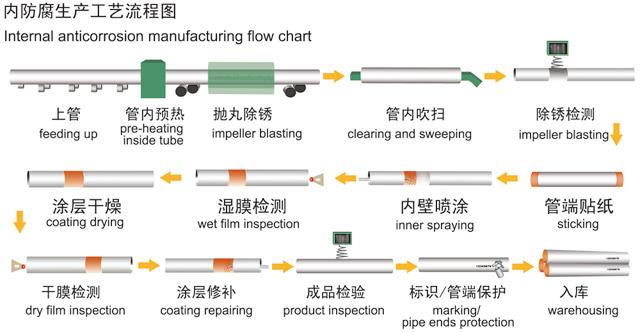 Anti corrosion Pipe Coating Specs
Anti-corrosion steel pipe is processed through the preservation process, which can effectively prevent or slow down the process in the transport and use of chemical or electrochemical corrosion reaction of steel pipe.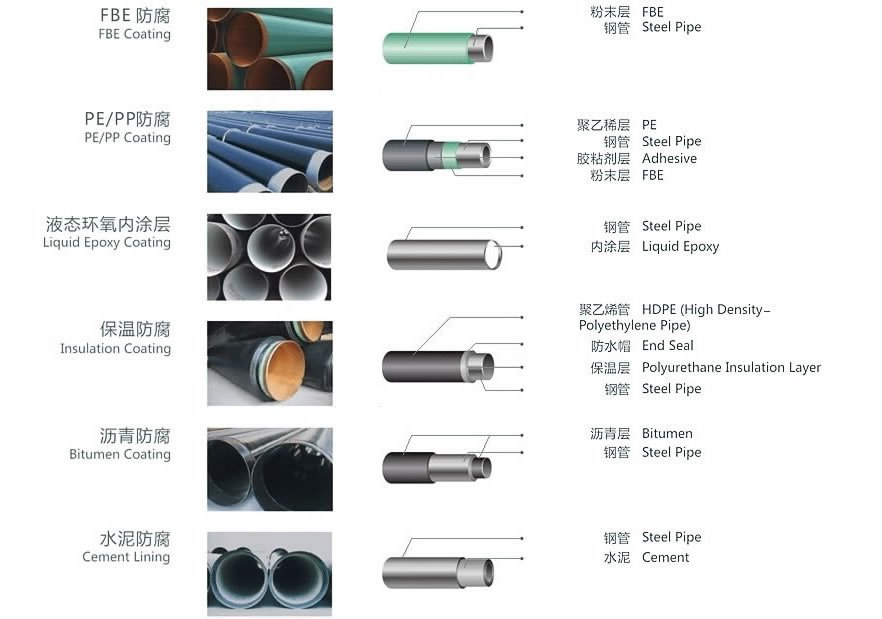 Coating Specifications    .
Finally emphasis on the importance of surface treatment in the production, strictly control the process parameters when anti rust.

Characteristics of 3PE coated steel pipe :
High tightness. It can save energy, reduce costs, protect the environment in long-term operation.
Corrosion resistance is very strong. The construction side simply speed. Up to 30~50 years service life.
With good resistance to corrosion and impact resistance, low water absorption. The PE ( less than 0.01% ) at low temperatures.
High strength epoxy. PE absorbent and hot melt adhesive softness, etc. have high corrosion reliability.
What is 3LPE Coated pipe?
The 3LPE coated pipe inlcudes 3 layer coatings, first FBE coating, middle is adhesive layer, outside polyethylene layer. 3PE coating pipe is another new product developed on the FBE coating basis since 1980s, which contains adhesives and PE(polyethylene) layers. 3PE can strengthen the pipeline's mechanical properties, high electrical resistance, waterproof, wearable, anti-aging.
It could protect pipe from the heat loss which only account for 1/4 of pipe.
3LPE coated pipe include 3 layers:
For The first layers is fusion bonded epoxy, which thickness is larger than 100μm. (FBE>100μm)
The second layer is adhesive, which effect is binding epoxy and PE layers. (AD: 170~250μm)
The third layers is PE layers which is polyethylene have advantages to anti-water, electrical resistance and anti mechanical damage. (φ300-φ1020mm)
Therefore, 3PE coating pipe integrated with the advantages of FBE and the PE. Whichg more and more widely used in buried pipeline's transporting of water, gas and oil.
In case manufacturing equipment, 3PE coating steel pipe manufacturers they can also do FBE coating pipe.
3LPE Coating Specifications
Three Layer Polyethylene (3LPE)
To improve anticorrosion performance and adhesion, an additional layer of epoxy primer is sprayed onto pipe surfaces prior to the adhesive layer and Polyethylene top layer application. Three Layer Polyethylene is suitable for service temperatures from 60°C to 80°C (85°C peaks). Typical coating thickness is from 1-2 mm to 3-5 mm.
Three Layer Polypropylene (3LPP)
If a wider service temperature range and high stiffness is required, adhesive and top layers, applied over primer layer, are based on polypropylene instead of polyethylene. Three Layer Polypropylene is suitable for service temperatures up to 135 °C (140°C peaks). Typical coating thickness is from 1-2 mm to 3-5 mm.