PIPE CROSS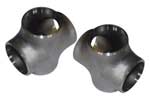 Pipe cross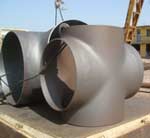 carbon steel cross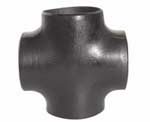 steel pipe cross
Pipe Cross
Product Introduction


Common pipe crosses are made by welding two pipe tees, which is not permitted in the production of pressure pipe fittings. hebei cangzhou crosses (OD 1/2"~60") are formed in one process, which translates into peace of mind for our customers. Owing to our advanced equipment and technologies, we can manufacture high quality pipe crosses at low production costs.

ERW pipe | Drill pipe| LSAW pipe |steel pipe |
A pipe cross may have one inlet and three outlets, while three inlets and one outlets are also available. Pipe crosses with the same inlet and outlet sizes are straight crosses, and crosses with different inlet and outlet sizes are called reducing crosses. We are a famous pipe cross manufacturer and supplier in China. In order to satisfy various customers requirements, we produce our cross pipes using different materials. At Ahad, we have carbon steel cross, stainless steel cross, and alloy steel cross etc. As a result of their tensile strength, corrosion resistance and dimensional accuracy, our products are well received in many countries, such as Italy, Belgium, America, Chile, Bolivia, United Arab Emirates, Brazil, South Korea, and India etc.
Industrial Processes
Bending, squeezing, pressing, forging, machining and more
Industries Served
Our pipe crosses are widely used in many industries, including electricity, petroleum, natural gas, chemical, shipbuilding, heating, papermaking, metallurgy and more.
Specifications for Pipe Cross
 
Production range
Seamless pipe cross
Welding pipe cross
Outside diameter
1/2"~32"
6"~60"
Wall thickness
4mm~200mm
Product type
Straight cross, reducing cross
Size
Seamless straight cross: 1/2"~32"DN15~DN800
Welding straight cross: 6"~60" DN150~DN1500
Wall Thickness
sch10, sch20, sch30, std, sch40, sch60, xs, sch80, sch100,
sch120, sch140, sch160, xxs, sch5s, sch20s, sch40s, sch80s
Max. wall thickness: 200mm
Materials
Carbon steel Pipe Cross: ASTM/ASME A234 WPB-WPC
Alloy steel: ASTM/ASME A234 WP 1-WP 12-WP 11-WP 22-WP 5-WP 91-WP 911
Stainless steel Pipe Cross: ASTM/ASME A403 WP 304-304L-304H-304LN-304N
ASTM/ASME A403 WP 316-316L-316H-316LN-316N-316Ti
ASTM/ASME A403 WP 321-321H ASTM/ASME A403 WP 347-347H
Low temperature steel: ASTM/ASME A402 WPL 3-WPL 6
High performance steel: ASTM/ASME A860 WPHY 42-46-52-60-65-70
Standards
GB/T12459-2005 GB/T13401-2005
SY/T0510-1998
ASME B16.9-2007 ASME B16.25-2007
CSA Z245.11-05-2005
Size
Seamless reducing cross: 1/2"~32"DN15~DN800
Welding reducing cross:6"~60" DN150~DN1500
Wall Thickness
sch10, sch20, sch30, std, sch40, sch60, xs, sch80, sch100,
sch120, sch140, sch160, xxs, sch5s, sch20s, sch40s, sch80s
Max. wall thickness: 200mm
Materials
Carbon steel: ASTM/ASME A234 WPB-WPC
Alloy steel: ASTM/ASME A234 WP 1-WP 12-WP 11-WP 22-WP 5-WP 91-WP 911
Stainless steel: ASTM/ASME A403 WP 304-304L-304H-304LN-304N
ASTM/ASME A403 WP 316-316L-316H-316LN-316N-316Ti
ASTM/ASME A403 WP 321-321H ASTM/ASME A403 WP 347-347H
Low temperature steel: ASTM/ASME A402 WPL 3-WPL 6
High performance steel: ASTM/ASME A860 WPHY 42-46-52-60-65-70
Standards
GB/T12459-2005 GB/T13401-2005
SY/T0510-1998
ASME B16.9-2007 ASME B16.25-2007
CSA Z245.11-05-2005