carbon steel tee and alloy steel tee - for pipe fittings
Tee for pipe fittings, pipe fittings, to be used in the main channel of the branch pipe. Tee is a three-way, there is generally Tee tee, reducing tee two. Because the three-terminal may be connected with the named pipe.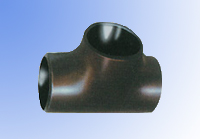 Name : A234 WPB Tee
Size : 1/8" to 72"
WT: SCH 10 TO SCH 160,XXS
Butt Welding
Standard : ANSI, JIS, DIN, EN, ISO, GB, SH AND HG
Material : Carbon and Alloy
Carbon steel: ASTM/ASME A234 WPB,WPC,ST37-2
Low-temperature steel: ASTM/ASME A402 WPL 3-WPL 6
High performance: ASTM/ASME A860 WPHY 42-46-52-60-65-70 ASTM/ASME A403 WP 321-321H ASTM/ASME A403 WP 347-347H
Alloy steel: ASTM/ASME A234 WP 1-WP 12-WP 11-WP 22-WP 5-WP 91-WP 911
Packing : wooden cases or customerized
Tee widely used in petrochemical, oil and gas, liquefied petroleum gas, fertilizers, power plants, nuclear power, shipbuilding, paper, pharmaceutical, food hygiene, construction and other industries of construction and maintenance projects. Industrial higher pressure requirements of this tube, the maximum pressure can reach 600 kilograms, lower life pipe pressure, typically 16 kilograms.
Because links can be used for a variety of industries, so different types can be divided into the following categories:
1. Material classified carbon steel, cast steel, alloy steel, stainless steel, copper, aluminum, plastic, argon Ge Lek, ppc, etc.
2. production methods can be divided into top, pressing, forging, casting and so on.
3. manufacturing standards can be divided into GB, electricity standard, water standard, American standard, German standard, Japanese standard, the Russian standard and so on.
Tee is the same at both ends of the diameter, reducing tee is the branch pipe and the other two different diameters called reducing tees, expressed as follows: For Tee, such as "T3" Tee said outer diameter 3-inch tee. For reducing tees, such as "T4 × 4 × 3.5" represent the same diameter of four inches to 3.5 inches in diameter reducing tees. Tee
Tee Atlas
Material is generally 10 # 20 # A3 Q235A 20g 20G 16Mn ASTM A234 ASTM A105 ASTM A403, etc., tees, outer diameter in the range of 2.5 "-60" from 26 "-60" welded tees. Thickness of 28-60mm.
上一篇:Comparative analysis of water supply pipe material and perfo
下一篇: Butt welding elbow, large diameter welded elbow price
(Tag):